Talented Local Artist Brings Colour to Ballymena Town Centre
Monday 27 March 2023
Leanne McClelland, a talented freelance artist and designer from Ballymena, has recently been commissioned to deliver a mural in the town centre as part of the Covid-19 Recovery Revitalisation Programme.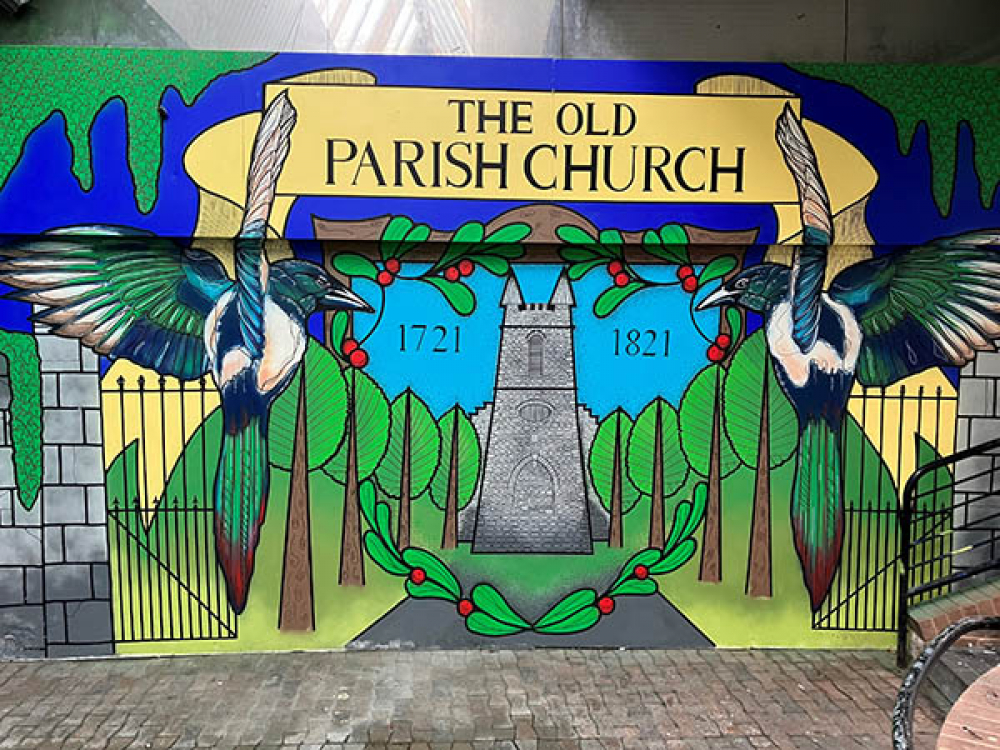 The programme is funded by the Department for Communities, Department for Agriculture, Environment and Rural Affairs, and the Department for Infrastructure, and administered by Mid and East Antrim Borough Council.
Leanne has been working with the Ballymena Business Investment District (BID) and Council to deliver a mural in the Church Street Arcade to commentate one of the last remaining seven towers of Ballymena, The Old Parish Church, to brighten up the streets of Ballymena and bring joy to the area.
The design of the mural is truly unique, with Leanne taking inspiration from the church grounds, including the plants, types of trees, colours, and birds that visited. Her symmetrical trademark design is centred around the parish church tower, with the Ballymena seven towers shield image behind. The design also includes the magpie – a symbol of wisdom and joy – which is regularly seen in the church grounds.
The original Church Tower and graveyard can still be seen on Church Street and plans are currently underway to open up this historical site to the public. The Old Parish Church was replaced by St Patricks Church, the main Parish Church in Ballymena's Anglican parish of Kirkinriola and Ballyclug in 1855 and is located on Castle Street.
James Perry, Parish representative, who liaised with Council on the production of a Tercentenary Guide entitled 'If These Stones Could Talk', commented 'Congratulations to BID and Council on taking the initiative to have a commemorative mural in Church Street Arcade. The striking image created by Leanne is an excellent way in which to draw attention to this important aspect of the history of Church Street.'
More of Leanne's work can be seen by following her business LM Commercial Design on Instagram at Lmcommercialdesign and Facebook at leannemcdesign.